Discounts
We offer a variable discount of up to £30.00 on every search bundle.
The system works out the value of the discount as you add searches to your basket. The more searches that you order the higher the discount. This is more flexible than having fixed search packs as you can combine any number of searches and get the appropriate discount.
We also offer a number of pre-configured search packs, such as the National Search Pack, which start at just £99.00 + VAT.
You can also save your pack at the checkout to save time on your next order.
Search Pack Discounts
You qualify for a discount whenever you order multiple searches. As you add searches to your basket the discount increases up to £30.00.
Any combination of searches will attract the discount. The packs don't have to be pre-configured, just add the searches you want and the discount will be applied.
You can create any number of search packs to save time on your next order.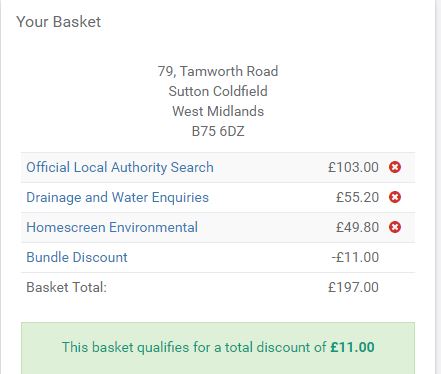 Have Your Residential Chancel Insurance On Us
This discount scheme means you can offer your clients Residential Chancel Insurance at no additional cost on every case (subject to policy conditions).
We give a search pack discount of £15.95 (equivalent to the premium of the £1m residential chancel insurance policy), when you order a chancel insurance policy with your searches.
The policy needs to be ordered at the same time as the searches. It can be ordered as a draft policy initially, for which there is no charge, and when issued the discount is applied.
The premium will be paid by Searchpoint on your client's behalf.